Nutritional Info Salted Caramel Cola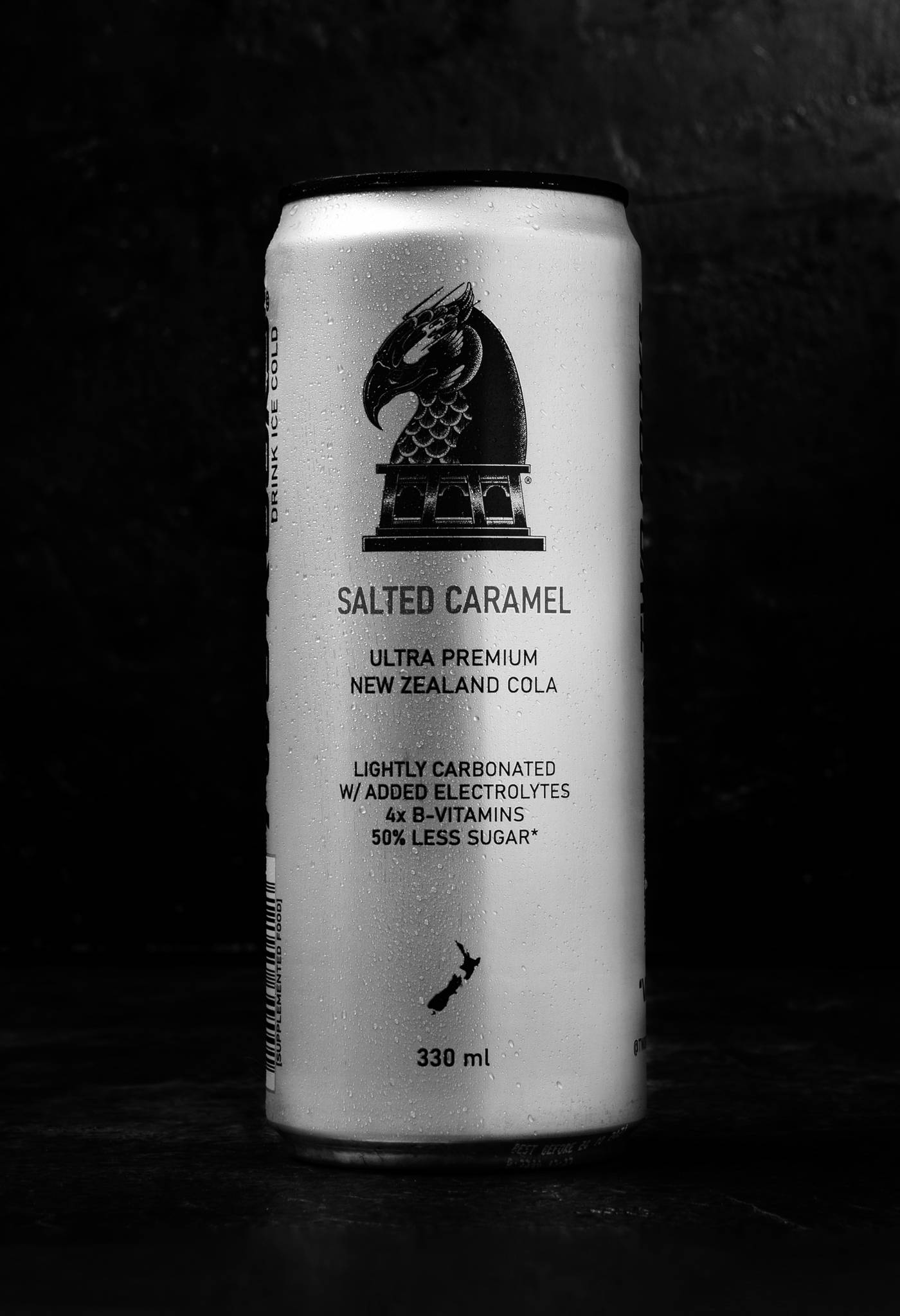 Please tap the drop down menu for more. TWO ROOKS Salted Caramel Cola is lightly carbonated with a pure NZ artesian water and supercharged with added electrolytes, B-Vitamins for assisted energy production and focus. TWO ROOKS Salted Caramel Cola is guilt free with a low 19 calories per 100ml and only 4.5g sugar per 100ml. Making it a perfect choice for those constantly on the go, studying or mixing with the best top shelf spirits.
Carbonated NZ Artesian Water, Sugar, Cola and Caramel Flavour [with Colour (150d), Phosphoric Acid, Caffeine], Sea Salt, Mineral Salts [Sodium Citrate, Potassium Chloride, Tri Potassium Citrate, Sodium Chloride], Sweetener [Sucralose], Vitamins [B3, B5, B6, B12].
Made with local and imported ingredients.
ANZFSC approved, Supplemented Food/Beverage.
ELECTROLYTES, B-VITAMINS & LOW SUGAR
TWO ROOKS® special blend of electrolytes (also known as mineral salts) cause electrically charged particles called ions in the body. When you lose a significant amount of these minerals (either by intense exercise or sweating) you're going to experience dehydration and feel pretty lousy. The primary electrolyte we lose through sweat is sodium.
If you have occasions of feeling fatigue throughout the day, there is a high chance you could also be lacking in Potassium. Two Rooks benefits from having both of these electrolytes. They're also pretty good after a wee bender.
B Vitamins are essential in todays rat race. While many drinks focus primarily on pumping you full of sugar and caffeine, TWO ROOKS® takes a different approach, utlising a specific blend of B-Vitamins (B3, B5, B6, B12) to assist in energy production and prolonged focus.
TWO ROOKS® V2 boasts a low 19 calories per 100ml and 50% less sugar (58% to be exact) than other leading full sugar cola drinks. While we tried to create a zero sugar option, we did not want to compromise flavour which you will agree most lack in todays day and age, nor did we want to pump it full of artificial sweeteners. The only artificial sweetner we use is Sucralose which starts it's life as Sugar and is cleared of it's caloric properties (science things) it is also over 3.2x sweeter than sugar which means we never need to add more than a sprinkle.
| | | | |
| --- | --- | --- | --- |
| Average Quantity | Per Serve | *% Daily Intake Per Serve | Per 100ml |
| | | | |
| | | | |
| | | | |
| | | | |
| | | | |
| | | | |
| | | | |
| | | | |
| | | | |
| | | | |
| | | | |
| | | | |
Contains caffeine. Not recommended for children under 15 years, pregnant or lactating women, or individuals sensitive to caffeine.
Consume a maximum of three cans per day.